JMT RC Drone Combination kit 3inch 480 x 320 Display Mini FPV Goggles w/ Happymodel Mobula6 Moblite6 Moblite7 1S Betafpv 1s HX100 SE BT2.0 4-axis Optional

Mini FPV Goggles 3 inch 480 x 320 Display Double Antenna Reception 5.8G 40CH Built-in Battery
Feature:
Small size and light weight;
Low power consumption, Working current 300~330mA;
Double antenna reception to make the signal more stable;
RaceBand 40 channel, Auto-Searching;
3.0 Inch 480*320 dot high brightness LCD screen;
Built-in super sensitiveness 5.8GHz 40ch receiver, especially with RaceBand;
Built-in 3.7V/1200mAh high-capacity Li-ion polymer Battery;
Universal USB charging interface;
Real-time video return, Very low time-delay;
Bilingual menu in support of Chinese and English;
Support external video signal input;
Support AV signal output (Connect external DVR);
Happymodel Mobula6 1S 65mm Brushless Whoop Drone Mobula 6 BNF AIO 4IN1 Crazybee F4 Lite Flight Controller Built-in 5.8G VTX
Features:
AIO 4IN1 Crazybee F4 Lite flight controller built-in 5.8G VTX
Extreme light 1S 65mm Brushless whoop only 20g
Runcam Nano3 The lightest 1/3 CMOS 800TVL Camera
Smooth and powerful
Compatible for 1S Lipo/LIHV
Camera Angle adjustable
Specifications:
Brand Name: Happymodel
Item Name: Mobula6 1S 65mm Brushless whoop drone BNF version
Wheelbase: 65mm
Size: 80mm*80mm*37mm
Weight: 20g
Receiver option:
Internal SPI Frsky version (Compatible with ACCST D8/D16, Recommend D8 mode)
Internal SPI Flysky version(Compatible with AFHDS and AFHDS-2A Flysky transmitter)
Motor speed option:
SE0802 KV25000(Race Edition)
SE0802 KV19000(Regular Edition)
Package includes:
Mobula6 1S 65mm whoop Drone Framex*1
SPI Receiver Option1: Crazybee F4 Lite FC built-in Frsky SPI D8 RX*1
SPI Receiver Option2: Crazybee F4 Lite FC built-in Flysky SPI RX*1
SE0802 KV19000 or KV25000 brushless motor*4
Gemfan 1219-3 Propellers(4cw+4ccw)*1
Runcam Nano3 1/3 CMOS 800TVL camera*1
5.8G 25mw 40ch vtx (Flight controller built-in)*1
1S 300mah 30C LiHV Battery*4
1S Lipo/LIHV USB Charger*1
Propeller disassemble tool*1
Spare parts specifications:
Motor
Mode: SE0802 19000KV or KV25000
Configu-ration:9N12P
Stator Diamter:8mm
Stator Length:2mm
Shaft Diameter:Φ1mm
Motor Dimension(Dia.*Len):Φ10.5mm*14.9mm
Weight(g):1.9g
No.of Cells(Lipo):1S only
Propellers:
Gemfan 1219-3
Center Thickness:5mm
Prop Disk Diameter:31mm
Center Hole Inner diameter:1.0mm
Weight:0.28g
Flight controller:
(Frsky SPI RX version) CRAZYBEE F4 Lite Frsky version Firmware target: CrazybeeF4FR
(Flysky SPI RX version) CRAZYBEE F4 Lite Flysky version Firmware target: CrazybeeF4FS
MCU:STM32F411CEU6 (100MHZ, 512K FLASH)
Sensor: MPU-6000(SPI connection)
Board size: 28.5 * 28.5MM
Power supply: 1S battery input (DC 2.9V-4.35V)
Built-in 5A(each) Blheli_S 4in1 ESC Dshot600 ready
Built-in Betaflight OSD(SPI Control)
Built-in 5.8G VTX
Built-in SPI Frsky/Flysky receiver
Built-in 5V 1A BEC
Built-in voltage detection
Onboard 4in1 ESC
MCU upgraded to EFM8BB21
Power supply: 1S LiPo/LiPo HV
Current: 5A continuous peak 6A (3 seconds)
Support BLHeliSuite programmable
Factory firmware: O_H_5_REV16_7.HEX
Default protocol: DSHOT600
Onboard Frsky SPI D8 receiver Version
SPI BUS receiver Frsky D8 compatible
Compatible Non EU transmitter D8 model
Channels: 8ch
Failsafe support
No groun
Onboard Flysky SPI receiver Version
SPI BUS receiver
Protocol: AFHDS and AFHDS-2A Switchable
Channels: 8ch(AFHDS) or 14ch(AFHDS-2A)
No ground interference ( Transmitter and receiver 1 m from the ground): 100~200m
Failsafe support
Onboard 5.8g VTX
Output power: 25mw
Frequency: 40CH
Input voltage: 3.3V 5.5V
Current consumption: 300mA(type)
Frequency: 5.8GHz 5bands 40 channels
With Race band
Smartaudio ready
Runcam Nano3
Model: RunCam Nano 3
Image Sensor: 1/3" CMOS
Horizontal Resolution: 800TVL
Lens : 2.1mm(M8) FOV 160°
Signal System: PAL/NTSC Non Switchable
S/N Ratio: >50dB
Electronic Shutter Speed: Auto
Auto Gain Control (AGC): Auto
Min. Illumination: [email protected]
D-WDR: Auto
Day/Night: Color
Power:DC 3-5.5V
Current: [email protected] [email protected]
Housing Material: ABS
Net Weight: 1.2g
Dimensions: L14mm*W14mm*H9mm
Lipo Battery
Capacity:300mAh
Voltage:3.8v
Continuous Discharge Rate: 30C
Size: 57mmx12mmx7mm
Weight: 8g
Connector: PH2.0
Happymodel New Moblite6 1S 65mm ultra light brushless whoop 18.5g VTX power switchable 25mw~200mw lightest 1s AIO 5IN1 F4 flight controller
Happymodel Moblite7 1S 75mm ultra light brushless whoop EX0802 brushless motors VTX power switchable 25mw~200mw lightest 1s AIO 5IN1 F4 flight controller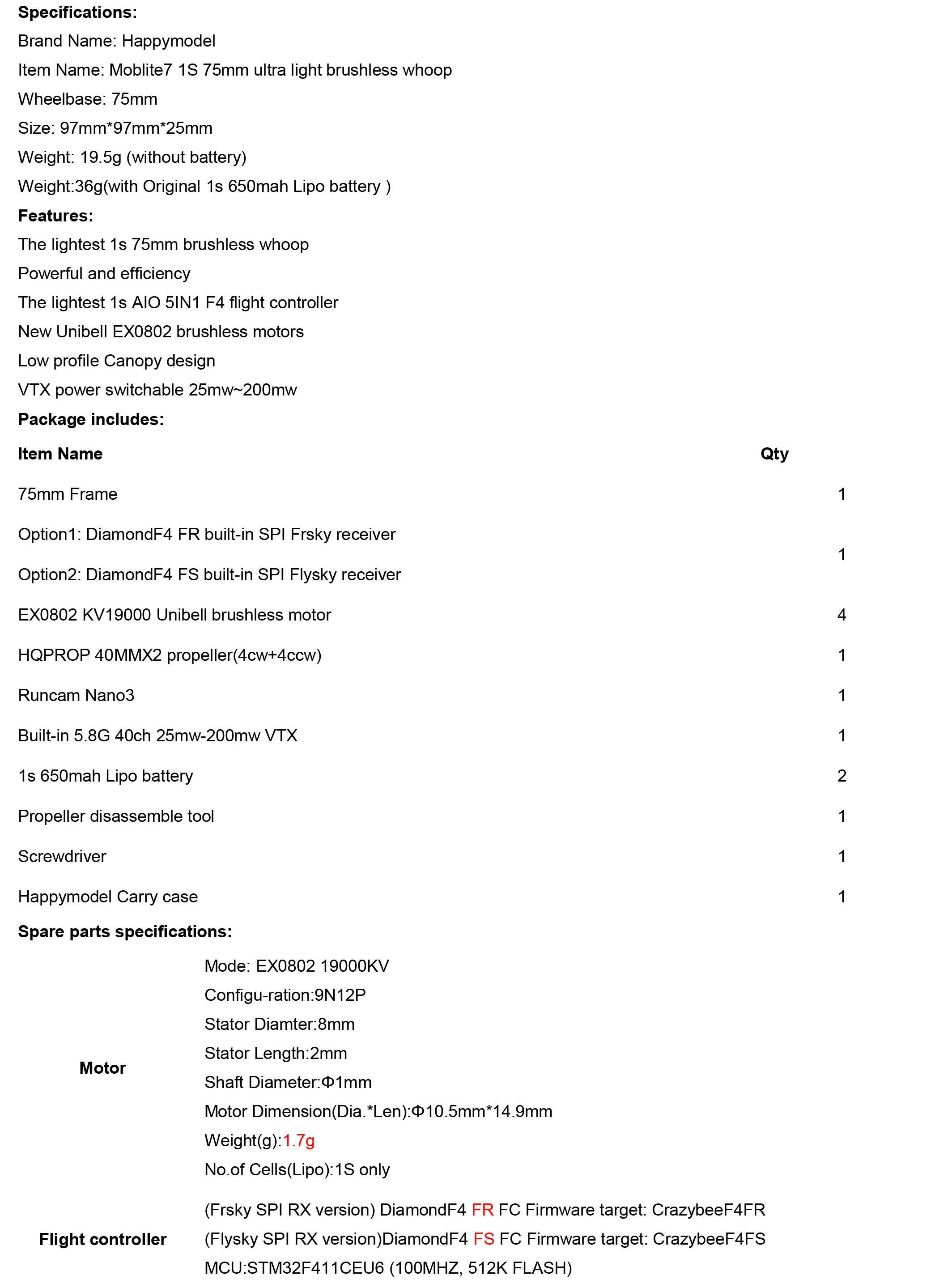 Betafpv 1s Indoor Racing Crossing Machine Toothpick drone 4-axis Aircraft HX100 SE BT2.0 RC Drone Quadcopter Frame

1 * HX100 SE FPV Quad
1 * BT2.0 300mAh 1S Battery
1 * BT2.0-PH2.0 Adapter Cable

Ultralight, quiet and powerful! With the tiny design of a 100mm wheelbase and the BT2.0 300mAh 1S battery, this small body contains incredible energy! Come with the brand-new F4 1S AIO FC, which integrates the VTX, greatly saves the drone's weight, brings a fast flight experience. This little beast will bring you an unprecedented outdoor flight experience!

Bulet Point

Uses the lightest F4 1S Brushless AIO FC which weighs 3.8g without a cable. This FC has the efficient STM32F411CEU6 processor and tuned BETAFPVF411(BEFH), which allows for maximum weight savings.

Equipped with BetaFPV's exclusively designed BT2.0 connector, it can support 9A continuous current and 15A burst while the PH2.0 connector uses 4.5A continuous current

The highly efficient combination of the light 1102 13500KV motor and durable 65mm 2- blade props deliver a drone with excellent flight performance and achieves a great noise-reducing function

Super light with a total weight of 28.09g, installed with the customized HX100 SE carbon fiber frame

The drone comes with BT2.0 - PH2.0 adapter cable in default, which is convenient for customer who uses PH2.0. We also released the BT2.0 tester and charger, its charging current has been upgraded from 0.5A to 1A, which makes the charging speed 2 times faster.

Specification

Item: HX100 SE FPV Quad

Weight: 28.09g (without battery)

FC&ESC: F4 1S AIO FC

Motors: 1102 13500KV Motors

Props: Gemfan 65mm 2-blade props(1.5mm shaft hole)

Camera: C01 Camera

VTX: Integrates 25mW VTX

Frame: HX100 SE Carbon Fiber Frame

Canopy: Canopy for HX100 SE

Receiver Option: Frsky XM / DSMX / Futaba S-FHSS

Battery: BT2.0 300mAh 1S Battery

Flight time: 4 mins in a smooth outdoor flight, 2:30 mins in full throttle outdoor flight

BT2.0 Connector

BETAFPV exclusive designed BT2.0 connector has broken through the bottle-neck of PH2.0 connector. BT2.0 connector has decreased internal resistance of connector effectively allowing more current to be transferred, which means it supports 9A continuous current (15A burst). This means stronger power and longer flight time on 1S brushless drones while PH2.0 just supports 4.5A. You can enjoy more flight time without disturb of low voltage warning due to reducing voltage sag.


Flight Controller

F4 1S AIO FC(SPI Rx) integrates 4 components as F411 FC, 5A ESC, 25mW VTX and SPI receiver. It is ultralight only 3.92g and still maintains an amazing performance capability, which makes it become your best choice to run with a 1S brushless quad!



F4 1S AIO FC(No Rx) integrates 3 components as F411 FC, 5A ESC and 25mW VTX. It supports external receivers like TBS Crossfire, Frsky XM+ and Spectrum DSMX etc.



In this quad, the Frsky & Futaba Version is equipped with F4 1S AIO FC(SPI Rx), and the TBS & PNP Version is equipped with F4 1S AIO FC(No Rx) with an external Receiver.

C01 Camera

C01 Camera is the lightweight camera customized for the weight-sensitive micro whoop drones, perfectly fits the Meteor65. Adapted a 1/4'' CMOS sensor, 2.1mm lens for 800TVL resolution and excellent latency while minimizing the weight to 1.4g. Packed with the micro canopy, protect your camera well in a hard crash.



The Quad comes with a 25° and 35° camera tilt

mounts, the 35° mount is suitable for high-speed flight, while the 25° mount

is for lower speed flight. SmartAudio is supported.


Motor

Customized 1102 13500KV motor - With an ultra-lightweight of 3.01g and

ball bearing technology, the friction is reduced between the bearing

surfaces thus increasing the duration of the motor and improving its

efficiency.