Flysky FS-i6 6CH 2.4G AFHDS 2A LCD Transmitter Radio System w/ FS-X6B Receiver for Mini FPV Racing Drone RC Quadcopterr
Package list:

1 * FS-i6 transmitter
1 * FS-X6B Receiver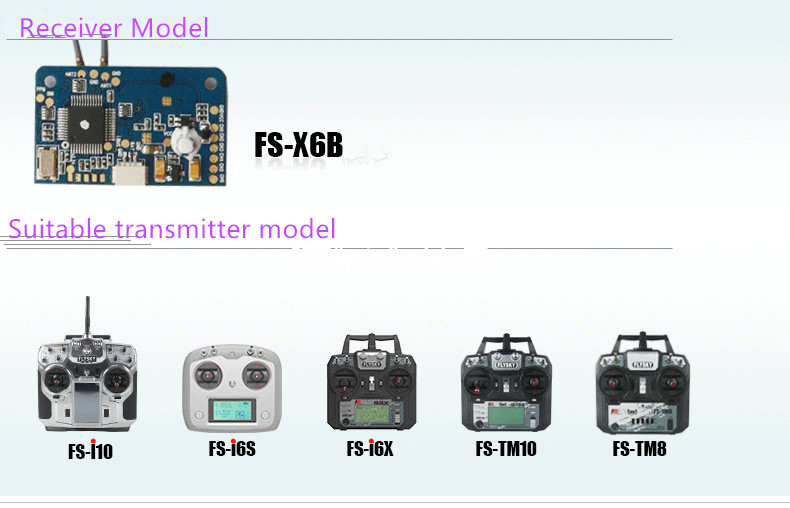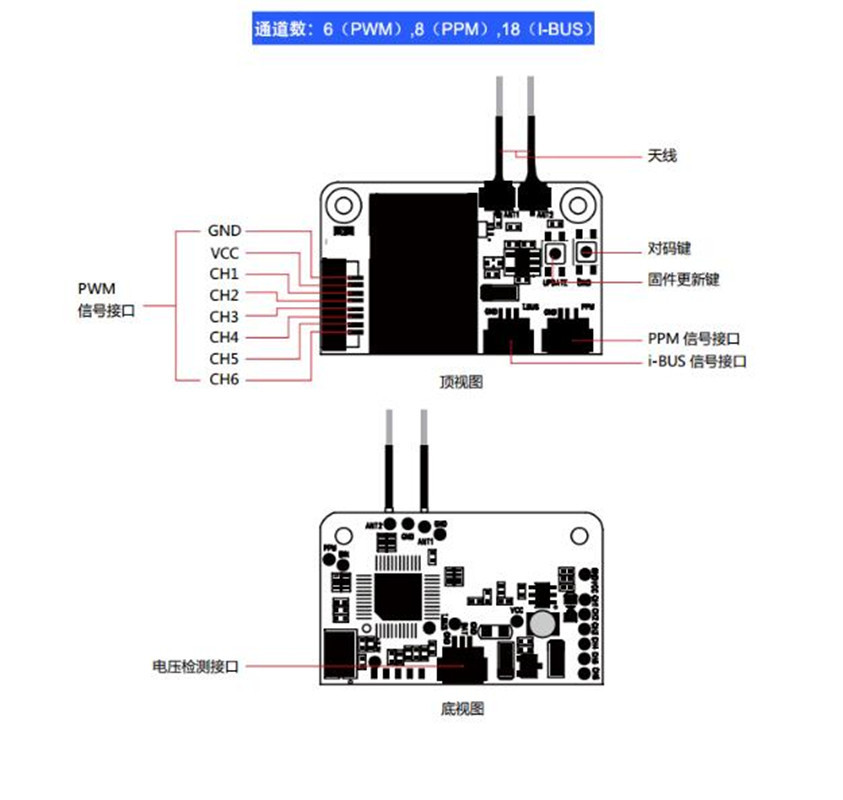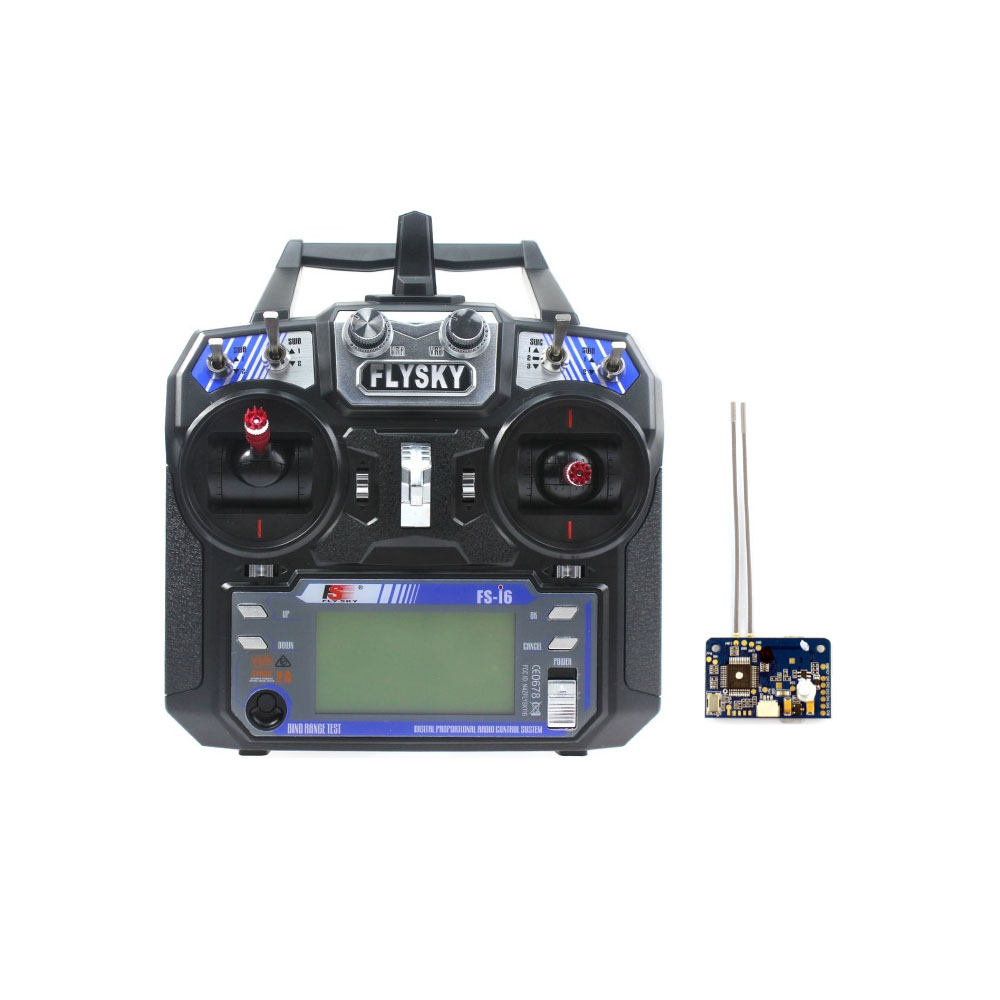 Flysky FS-i6 6CH 2.4G AFHDS 2A LCD Transmitter Radio System for RC Heli Glider Quadcopter DIY Drone
(Mode1 right throttle/Mode2 left throttle for choose.Please inform us which one you need in advance,thanks
Description:

The Flysky FS-i6 is a affordable, 6CH 2.4G radio system and also a very simple setup for your RC vehicle. The automatic frequency hopping digital system provides a strong, reliable 2.4GHz signal, so rest assured you'll always be in control. Included in the package is a 6-channel mini receiver that will fit in most vehicles. The ergonomic feel of the trasnsmitter will feel good in your hands even after long track sessions.
Features:
Reliable, interference free 2.4GHz AFHDS 2A signal operation.
6CH operation.
Use only 4 * AA batteries for transmitter.
Quick and extremely stable in performance.
Simple binding procedure.
Highlights:
Works in the frequency range of 2.405 to 2.475GHz.This band has been divided into 142 independent channels,each radio system uses 16 different channels and 160 different types of hopping algorithm.Silm design on transmitter for easy handling!
This radio system uses a high gain and high quality multi directional antenna,it covers the whole frequency band. Associated with a high sensitivity receiver,this radio system guarantees a jamming free long range radio transmission
Each transmitter has a unique ID,when binding with a receiver,the receiver saves that unique ID and can accepts only data from the unique transmitter.this avoids picking another transmitter signal and dramatically increase interference immunity and safety.
This radio system uses low power electronic components and sensitive receiver chip.The RF modulation uses intermittent signal thus reducing even more power consumption.
AFHDS2A system has the automatic identification function,which can switch automatically current mode between single-way communication mode and two-way communication mode according to the customer needs.
AFHDS2A has built-in multiple channel coding and error-correction,which improve the stability of the communication,reduce the error ratio and extend the reliable transmission distance.
Transmitter Specfications:
Channels: 6
Model type: fixed-wing/glider/helicopter
RF range: 2.405-2.475GHz
Bandwidth: 500KHz
Band: 142
RF power: less than 20dBm
2.4G system: AFHDS 2A and AFHDS
Code type: GFSK
Sensitivity: 1024
Low voltage warning: less than 4.2V
DSC port: PS2; output: PPM
Charger port: no
ANT length: 26mm * 2(dual antenna)
Power: 6V 1.5AA * 4 (Not included)
Display mode: Transflective STN positive type,
128 * 64 dot matrix VA72 * 39mm, white backlight.
Size:174 * 89 * 190mm
Weight: 392g
Online update: yes
Color: black
FS-X6B is a 6 channel two-way receiver designed for multi-rotor aircraft. It uses the AFHDS 2A(Automatic Frequency Hopping Digital System) protocol and dual omnidirectional antenna with superior noise reduction techniques. It's compact, easy to install and boasts a rich easy to use interface. The FS-X6B support 6 channel PWM output, standard PPM output and i-BUS support for up to 18 channels alongside a reliable voltage sensor interface.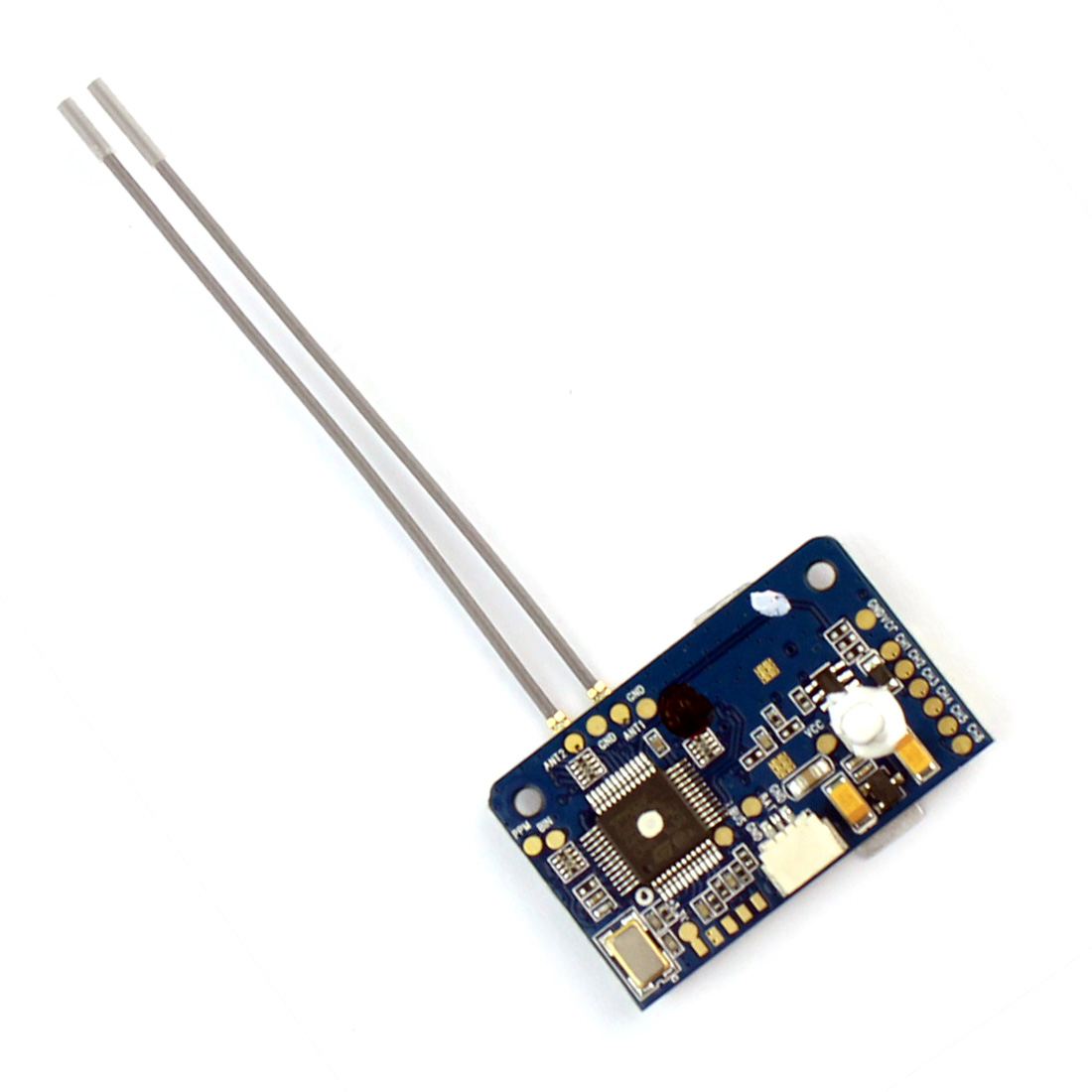 Description:
Brand Name: Flysky
Item: X6B i-BUS 2.4GHz 6CH Receiver
Channels: 6(PWM), 8(PPM), 18(i-BUS)
Model Type: Multi-Totor
RF Range: 2.408-2.475 GHz

Brand Wigth: 500KHz

Number of bands: 135
RF Power: No more than 20 dBm
RX Sensitivity: -95dBm
2.4GHz protocol: AFHDS 2A
Modulation Type: GFSK

Stick resolution: 1024

Low voltage alarm: Yes

DSC port: PPM/PWM/i-BUS

Antenna Length: 93mm (Dual Antenna)
Power input: 4.0-8.4V
On-line Update: Yes(Wireless)

Range: >300m
Weight: 4.5g
Size: 36*22*7.5mm
i-BUS Port: Yes
Certificate: CE0678, FCC ID: N4ZX6B00

Compitable Transmitter: All AFHDS 2A Transmitter, for example FS-i10, FS-TM8, FS-i6,FS-i6S, FS-TM10