BETAFPV LiteRadio 2 SE Radio Transmitter-ELRS Version 2.4G TX Remote Controller X-Knight 35 FPV Quadcopter Brushless Motors For Racing Drone
Package
1 * LiteRadio 2 SE Radio Transmitter
1 * User Manual
1 * X-Knight 35 FPV Quadcopter
4 * HQ 3520 3-Blade Propellers (2CW+2CCW)
4 * QF 3520 3-Blade Propellers (2CW+2CCW)
1 * Camera Base Print
Bullet Points
Caddx Polar Vista Kit provides a premium and lightweight HD FPV camera system with a large wide camera angle, 162°. With video clarity and transmission intensity comparable to the DJI Air Unit, and enhanced night vision. Pilots can give full credit to the high-quality image connection under any circumstances. GoPro can be also equipped on this quadcopter.

HQ and Gemfan 3520 3-blade propellers are both put in the package. They are capable of providing linear throttle response in the flight time and control efficiency suite. With 3.5-inch props, the X-Knight 35 has enough lift power while performing a variety of freestyle and acrobatic flying tricks perfectly and efficiently. Besides, it is less noisy than those 5-inch props quads.

The unique frame design makes it suitable for photography, the lens position is forward with a protective shell. You don't have to worry about seeing the props or the frame itself in the flight video, which is great for making cinematic shots and vlogging.

Equipped with an F4 AIO 20A and 1404-3800KV motor, this great combination of power systems enables the X-Knight 35 to maintain magnificent energy and less noise in flight.
Specification
Item: X-Knight 35 FPV Quadcopter

Weight: 142.9g (Without battery)

Motor: 1404 3800KV Brushless Motors

Power Connection: XT30, black&red wires

Props: HQ 3520 3-Blade Propellers (Gray) / Gemfan 3520 3-Blade Propellers (Gray)

Battery: 750mAh 4S 95C Lipo Battery


VTX&Camera: Caddx Polar Vista Kit (HD Digital VTX)

FPV Camera Degree: 0°-60°

Diameter: 155mm

Receiver: ELRS 2.4GHz Receiver / TBS Receiver

Flight time: 11~13 min smooth flight or 4~6 min flight of FPV freestyle tricks with 4S 750mAh battery
Caddx Polar Vista Kit (HD Digital VTX)
Built-in 1000 mAh 1S battery, LiteRadio 2 SE increases the endurance to 8 hours.
Updates with BETAFPV self-developed LiteRadio System. Pilots can directly operate the Joystick Calibration and Upgrade Firmware on the radio transmitter.
Supports the Frsky / Futaba / Bayang, pilots can easily change Futaba, Frsky D8, Frsky FCC D16, and Frsky LBT D16 mode via the radio transmitter.
Comes with 100mW transmitting power, LiteRadio 2 SE brings a wider operating range.
Please kindly note: D16 (FCC&LBT) protocol currently does not support the Frsky receivers with ACCST 2.0 firmware or higher, and it can only bind with
ACCST 1.X firmware version XM+ receivers.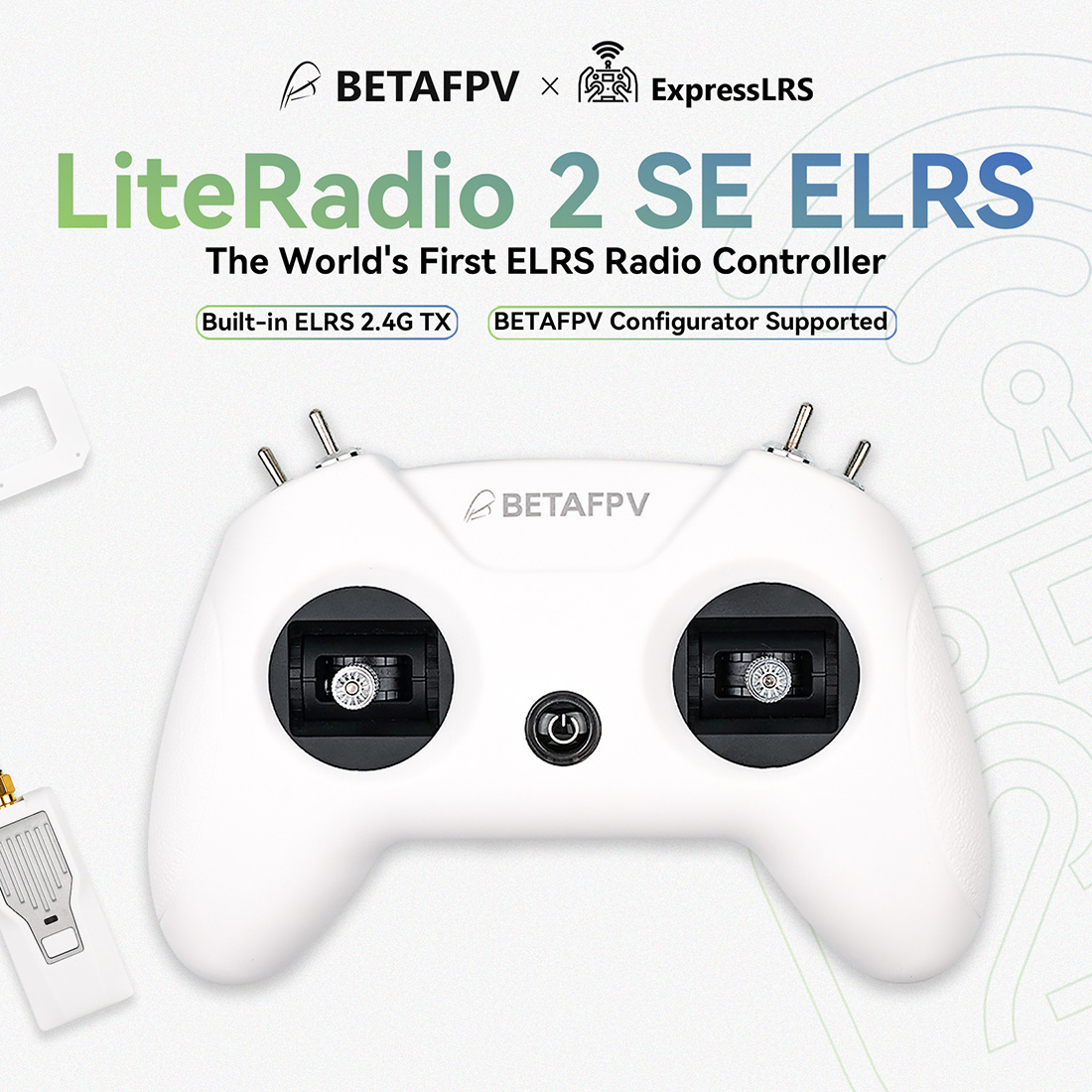 Bullet Point
LiteRadio 2 SE upgrades with BETAFPV self-developed Customized LiteRadio System. Pilots can directly operate the Joystick Calibration and Firmware Update on the radio transmitter, which is more convenient for the beginner racer to operate.
Equipped with a built-in 1000 mAh 1S battery, LiteRadio 2 SE can use up to 8 hours, bringing an excellent endurance performance.
Comes with a built-in charging module, LiteRadio 2 SE can support USB charging which is more convenient to use. Meanwhile, it designs a Low-Power warning to indicate a low battery. While it needs to be re-charged(when the voltage is lower than 3.5V), the LED will turn red first, then it will turn blue and flash slowly.
Compared with the LiteRadio 2, LiteRadio 2 SE has a larger transmitting power that can reach 100mW, bringing a wider operating range.
Adopted the rubber coat, LiteRadio 2 SE is ergonomic and has the shape of a gaming controller. It's comfortable to hold, and the anti-slip texture on the handles allows for a solid grip.
This radio transmitter acts as a USB Joystick when connected to a personal computer. So you could use it to play FPV simulators like EREADRONE.
LiteRadio 2 SE transmitter has been equipped on the Ready-to-Fly FPV whoop racing advanced kit 2 and FPV whoop racing starter kit 2. It is one of the easiest ways to get into the FPV hobby.
Specification
Item: LiteRadio 2 SE
Color: White
Frequency Range: 2.4G (2403MHz-2447MHz)
2.4G System: NRF24L01 / CC2500 / SX1280
Channel: 8
Support Protocol: Bayang / Futaba S-FHSS / Frsky FCC D16/ Frsky LBT D16 / Frsky D8 / ExpressLRS 2.4G
Power: ≤100mw
Adapted Drone Type: Multirotor
Support USB Charging / Firmware Update
Support BETAFPV Simulator Connected / Customized LiteRadio System / Joystick Calibration
LED Light: Green-Power On / Red-Warning if the voltage is lower than 3.5V / Blue-Normal
Battery: Built-in 1000mAh 1S Battery
Charging Connector: USB 3.0 Type-C
BETAFPV Configurator
BETAFPV Configurator is utility designed to simplify updating, configuring and tuning the radio transmitter.
Function of BETAFPV Configurator is list below.
Basic radio controller setup, like mode switch, turn on/off RF modules.
Full function of the ExpressLRS configuration, like outpower, packet rate etc.
Channel mixer for fix wing drones.
Firmware update.
How to recognise if your radio transmitter supports the BETAFPV Configurator?
Remove the cover on the back of the transmitter and there is a label, comes with "BETAFPV Configurator Supported".
DO NOT power on the transmitter first and connect it to the PC. The USB port is invalid in this situation.
How to switch the protocol
To change protocols (Frsky FCC D16, Frsky LBT D16, Frsky D8, or Futaba S-FHSS), you have to power it off first, then press and hold the bind button while
you power it back on. After that, the flash times of the red LED before buzzer alarms will change, and it will indicate which protocol it is on.
LED Status Protocol Version
Flash Once
Frsky FCC D16
(Only supports ACCST 1.X version)
Flash Twice
Frsky LBT D16
(Only supports ACCST 1.X version)
Flash Three Times :Frsky D8
Flash Four Times:Futaba S-FHSS