XT-XINTE
30 Items/180Pcs Outdoor First Aid Emergency Kit Bag for Home Outdoor Travel Sports Medical Treatment Pack Survival Rescue Set 22*14*6cm CE FDA
Please be kindly noted, the listed product is produced and distributed abroad and subject to the laws of its country of origin.




Weathers any Weather!

Are you a fan of the great outdoors? Quick Spear is too! And our emergency survival kit is designed to complement an
active lifestyle. We've made the first aid bag using waterproof material to keep your supplies nice and dry even in a
downpour. There is also a loop on one side of the bag to easily attach the kit to your backpack.

Here is why you'll love this first aid kit:
- Contains 90 high quality emergency supplies for any circumstances.
- Compact and lightweight bag for easy portability and storage.
- Multiple compartments to neatly hold all the items.
- Instruction sheet and first aid booklet to provide guidance.
| | | | |
| --- | --- | --- | --- |
| NO | | | |
| 1 | scissor | 9cm | 1 |
| 2 | tweezer | 11cm | 1 |
| 3 | Sterile gauze pad | 5CM*5CM | 1 |
| 4 | Sterile gauze pad | 7,5*7.5cm | 1 |
| 5 | confirming bandage | 5cm*4.5m | 1 |
| 6 | confirming bandage | 7.5cm*4.5m | 1 |
| 7 | adhesive tape | 1.25cm*5m | |
| 8 | self-adhesive bandage | 2.5cm*4.5m | 1 |
| 9 | tourniquet | 46cm | |
| 10 | alcohol prep pad | 3*6cm | 30 |
| 11 | iodine pad | 5*5cm | 4 |
| 12 | sting relief prep pad | 5*5cm | 4 |
| 13 | | | |
| 14 | antiseptic wet wipes | 5*6cm | 4 |
| 15 | soap wipes | 5*6cm | 4 |
| 16 | round band-aids | | 20 |
| 17 | H shape band-aids | | 2 |
| 18 | closure ban-aids | | 2 |
| 19 | wound dressing | 6*7cm | 1 |
| 20 | wound dressing | 6*10cm | 1 |
| 21 | cotton buds | | 50 |
| 22 | triangular bandage | 96*96*136cm | 2 |
| 23 | safety pins | | 10 |
| 24 | CPR mask | 20*19cm | 1 |
| 25 | PVC glove | | 1 |
| 26 | emergency blanket | 130CM*210CM | 1 |
| 27 | rain poncho | large | 1 |
| 28 | burn dressing | 60X40cm | 1 |
| 29 | first aid guide | | 1 |
| 30 | nylon pouch | 22*14*6cm | 1 |
| | | | 180 |
Total Weight about 350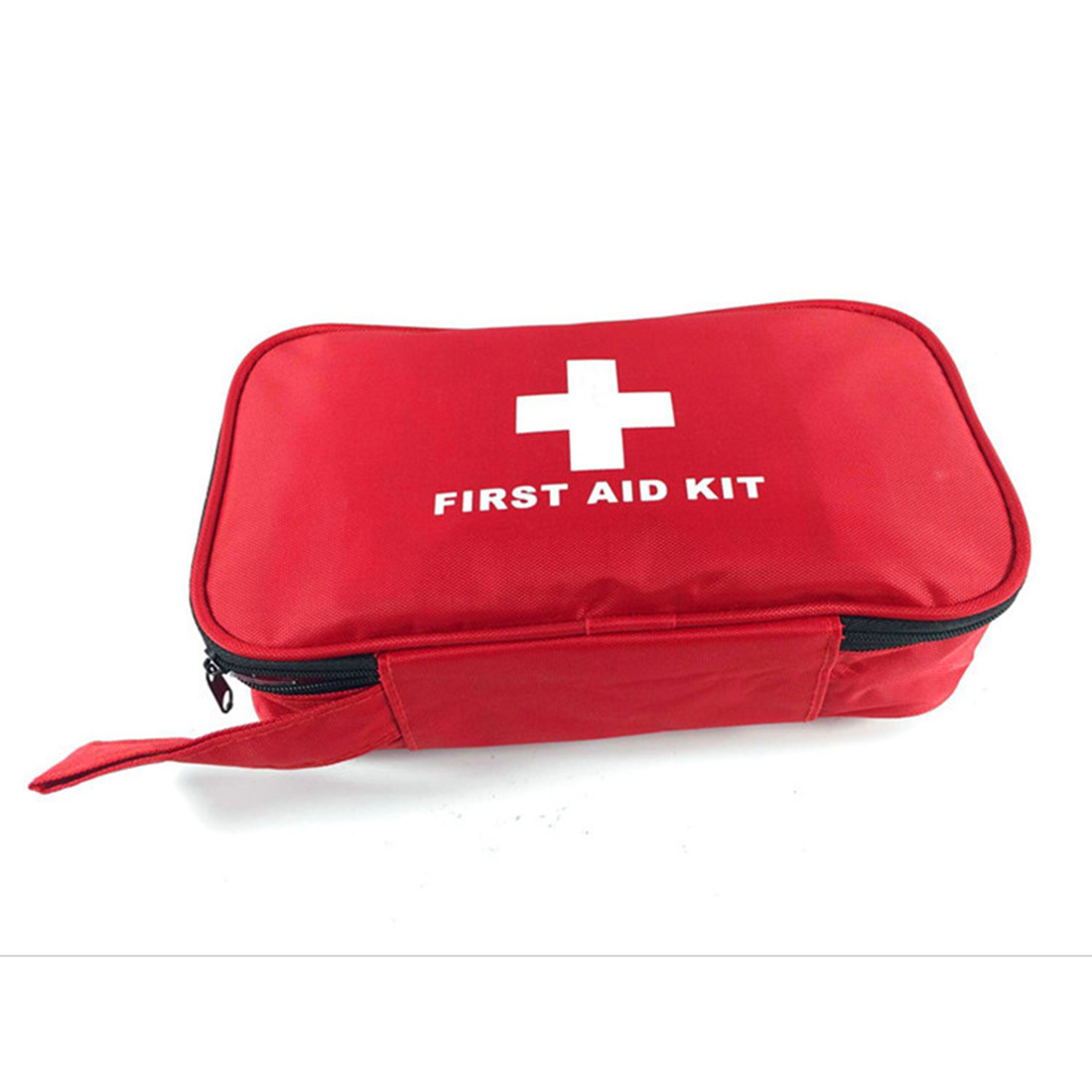 g