JMT DIY 8-Axle Unassembled RC Drone 1000mm Carbon Octocopter Pixhawk M8N GPS RC Drone PNF Kit No Remote controller/Battery/FPV Device
Product is DIY Version, Unassembled Kit and NO Manual, Please take it into account before ordering.
Our technicist will help client to weld the some wiring for ESC and we will test all electronic parts before shipment.
If any Technical questions, Please message us but do not open dispute or leave negative feedback.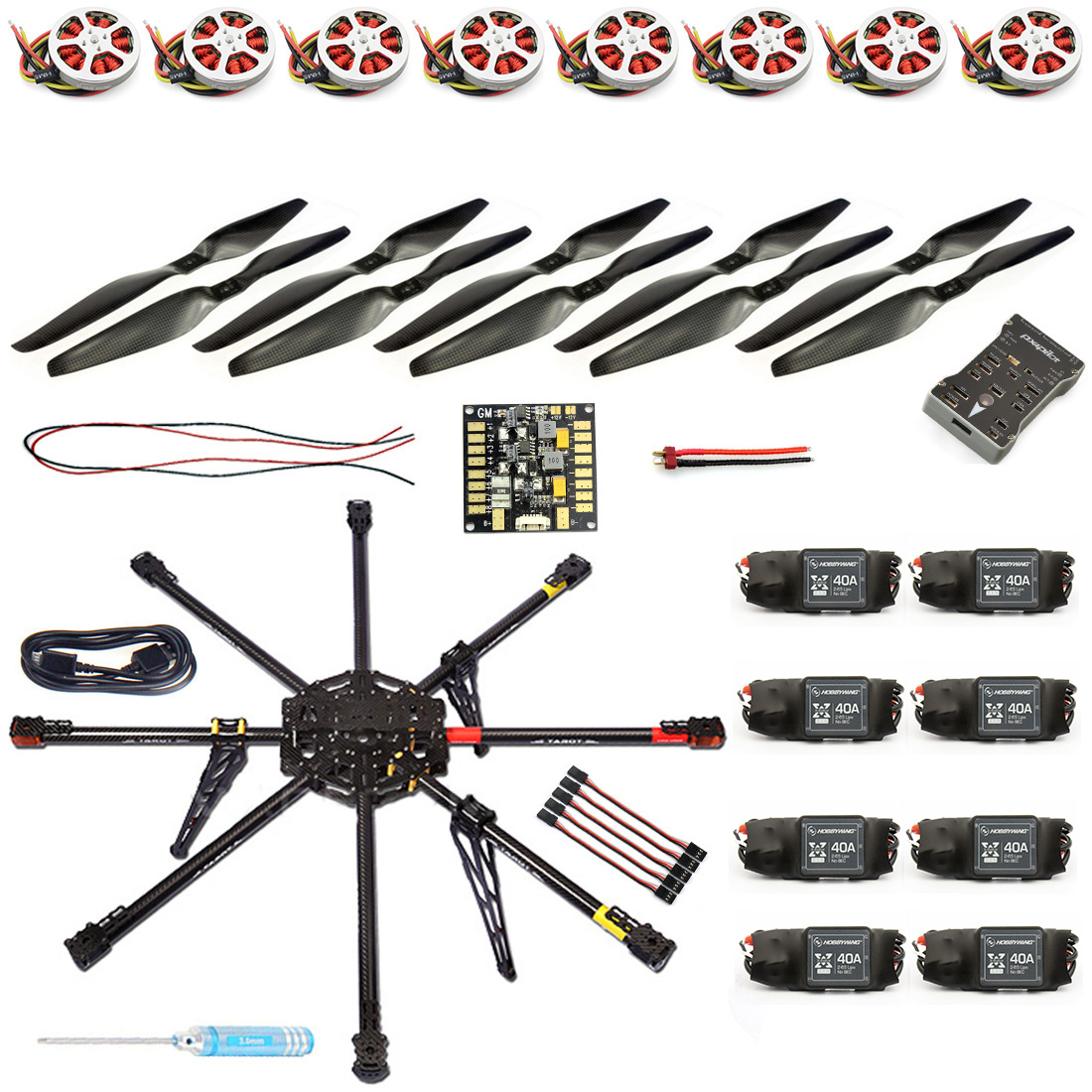 Package listing:
1x Tarot IRON MAN 1000mm 8 Aix Carbon Fiber Octocopter TL100B01
8x JMT 350KV Brushless Disk Motor high Thrust With Mount
8x JMT 40A Brushless ESC Speed Controller
1x Pixhawk PX4 PIX 2.4.8 32 Bit Flight Controller Integrate PX4FMU PX4IO Safety Switch Buzzer 4G SD
4x Three-hole High Quality Carbon Fiber 15x5.5 1555 Propeller CW CCW(Pair)
1x Mini M8N GPS Module NEO-M8N GPS
1x Multifunction Power Distribution Board 5.3V BEC
1x CNC GPS Anti-interference Antenna Mount Holder Stent Case
1x Tool Set (Bag)
Frame:
Product Descriptions:
· Carbon content 100% TORAY 3K carbon fiber applied, CNC processed
· The quality of 2.0mm thick matte carbon fiber is higher than products available on market.
· Motor mount is 6061T6 aluminum alloy CNC processed
· Lightweight design, and dual-color, which can be recognized easily in the air
· The whole set is only 1.6 kg weight (lading skid included)
· Payload is up to 8 kg, which is specific for 5DII, RED EPIC, C300, FS100, FS700 and large-sized photographic equipments
Specifications:
· Boom diameter: 25MM
· Diameter (motor to motor): 1020MM
· Frame diameter: 1070MM
· Height: 380MM
· Central plate: 250x240 MM
· Motor installation space: 16MM/19MM/25MM/27MM equilateral triangle installation
Motor:
1, the use of a hidden motor shaft design, more effective protection of the motor shaft.
2, the use of a new type of propeller design, performance is more stable, demolition is more convenient.
3, the use of the 0.2mm stator, the load temperature lower, increase in efficiency.
Excellent workmanship, quality assurance, energy saving high efficiency
KV:350 KV
Shaft diameters: 4 mm
Weight:about 105 g (with leads)
Flight Controller:
Description:
- The board integrates with PX4FMU+PX4IO
- Pixhawk is with new 32 bit chip and sensor technology
Features:
- Advanced 32 bit CortexM4 ARM high performance processor, can run RTOS NuttX real time operating system;
- 14* PWM/ actuator output;
- Bus interface (UART, I2C, SPI, CAN);
- Integrated backup power supply and failure backup controller, the main controller can be safely switched to backup control;
- Provide automatic and manual mode;
- Provide redundant power input and fault transfer function;
- Color LED lamp;
- Multi tone buzzer interface;
- Micro SD to record flight data;
Processor:
- 32 bit 2M flash memory STM32F427 Cortex M4, with hardware floating point processing unit
- Main frequency: 256K, 168MHZ RAM
- 32 bit STM32F103 backup co processor
Sensor:
- L3GD20 3 axis digital 16 bit gyroscope
- LSM303D 3 axis 14 bit accelerometer /magnetometer
- MPU6000 6 axis accelerometer / magnetometer
- MS5611 high precision barometer
Interface:
- 5* UART, 1*compatible high voltage, 2*hardware flow control
- 2* CAN
- DSM/DSM2/DSM-X satellite receiver compatible input
- Futaba SBUS compatible input and output
- PPM signal input
- RSSI (PWM or voltage) input
- I2C
- SPI
- 3.3 and 6.6VADC input
- External USB MICRO interface
Caution for the battery:
Don't over-charge, or over-discharge batteries.
Don't put it beside the high temperature condition.
Don't throw it into fire.
Don't throw it into water.