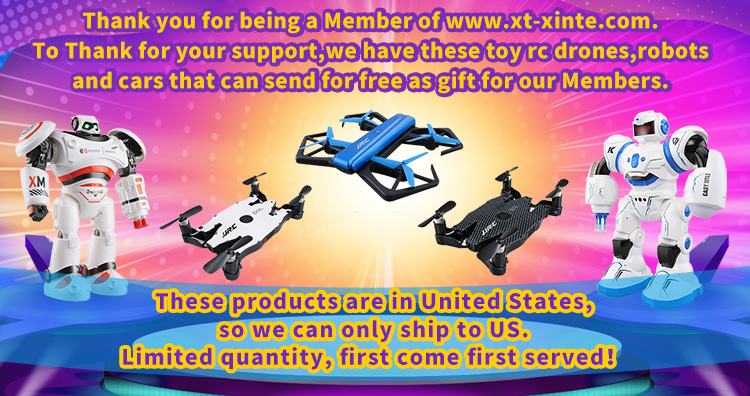 Thank you for being a Member of www.xt-xinte.com.
To Thank for your support,we have these toy rc drones,robots and cars that can send for free as gift for our Members.
All Members in United States can get one,include both old member and new members.
These products are in United States,so we can only ship to US.
Limited quantity, first come first served
This Activities will last From Oct24th to OCT30th
https://www.xt-xinte.com/JJRC-H49-H49WH-SOL-WIFI-FPV-HD-Camera-Drone-4CH-6Axis-Headless-Mode-RC-Quadcopter-Helicopter-Automatic-Air-Pressure-High-H37-H47-p408565.html
https://www.xt-xinte.com/Search-F22011/list-r1.html
https://www.xt-xinte.com/Search-F22251/list-r1.html
https://www.xt-xinte.com/Search-F22483/list-r1.html
If anyone are interested in these items,please contact me at [email protected] or skype xintegroup ,thanks