BETAFPV TWIG ET5 5'' Toothpick FPV Racin Drone with F405 Brushless Flight Controller 35A BLHeli_32ESC 1506 3000KV motor A01 25-200mW VTX Indoor Quadcopter
Note: the TBS CROSSFIRE version is out of stock now, and it will be available again on July 10.
TWIG ET5 Toothpick Quad is the truly lightweight 5'' toothpick drone! With the perfect match of 1506 3000KV motor and Gemfan 5125 3-Blad props, pilots will not have the Wash-out and propeller shaking problems on the flight. TWIG ET5 5 inches toothpick quad is made in its best condition with insane flight power, come and catch one, you will be surprised at its fascination!
Bullet Point:
TWIG ET5 5'' toothpick quad is another masterpiece of the collaboration between BETAFPV and TWIG. As a lightweight 5'' toothpick drone, it's the only weight 169.3g. Lightweight but powerful enough, making your flight easier without limitation.
Equipped with the combo of F405 Brushless Flight Controller & 35A BLHeli_32ESC, totally supported 4s battery, you can get 4:50mins on a smooth flight, and 3:20mins for insane flight. The FC is equipped with ports that support to plug the receiver, ESC, led board and VTX directly, no need to solder, convenient for installation.
Comes with the 1506 3000KV motor and Gemfan 5125 3-Blad props, TWIG ET5 5'' perfectly solved the problems of Wash-out and propeller shaking, pilots can enjoy the safer and stable flight.
With the high-performance STM32F405 processor FC boards and tuned Betaflight Omnibus 3.5.0 firmware, , faster input signals with lower latency and higher update rates are reachable, the drone will gives you a strong power to fly more flexible and more durable.
Specification:
Item: TWIG ET5
Weight: 169.3g (Not including Battery)
FC&ESC: F405 Flight Controller & 35A BLHeli_32ESC
Motors: 1506 3000KV brushless motor
Props: Gemfan 5125 3-Blad props
Camera: Caddx Ratel Camera
VTX: A01 25-200mW 5.8G VTX
Frame: TWIG ET5 5'' Toothpick Frame
Canopy: Canopy for Mini Cam V3 Black
Receiver Option: Frsky FCC/ Frsky LBT /TBS Crossfire
Battery: 4S battery, like 450mAh 4S battery/850mAh 4S battery (Not included)
FC & ESC:
Equipped with the combo of F405 Brushless Flight Controller & 35A BLHeli_32 ESC, TWIG ET5 totally supports 4s battery for the fast-flying experience. Come with a BETAFPVF405 processor FC, BetaFlight OSD, and 35A BLHeli_32 ESC, it gives the brushless toothpick quad more powerful flight performance. Find more details about this F405 Brushless Flight Controller on another page, and here are the specifications of 35A BLHeli_32 ESC.
Support PWM, Oneshot125, Oneshot42, Multishot, Dshot150, Dshot300, Dshot600, Dshot1200
Continue current: 35A
Peak current: 13A
Firmware target: BETAFPV_35A_BLHeli32-Rev.32.7
MCU: STM32F051K66
Motor Connectors: 0.5mm BTB Connecter
Weight: 14.7g(with XT60 cable)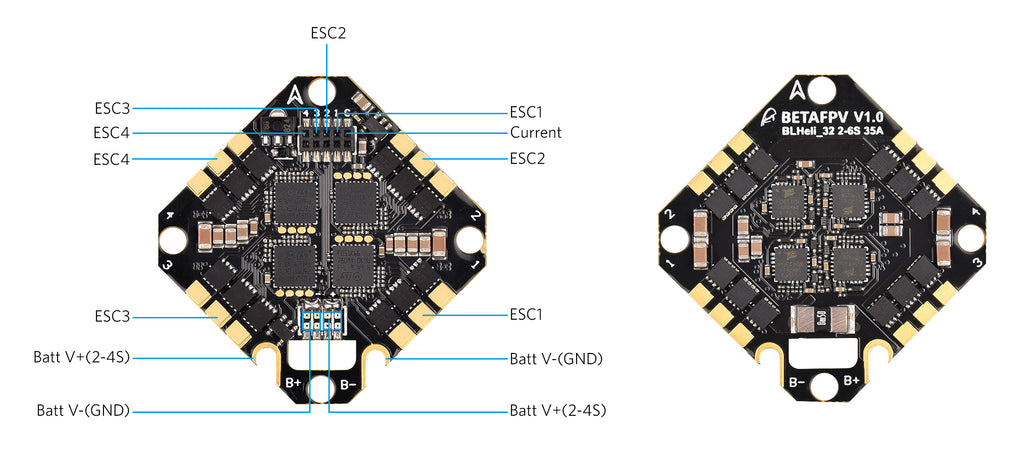 Motor
Dual branded Racer X FPV and BETAFPV 1506 3000KV motor - rated at 3000kv, it is specialized for the TWIG Mutant and TWIG ET5'' Toothpick. Perfectly match with F405 35A BLHeli_32 and 20A Toothpick F4 AIO FC, it will bring you powerful flight experience.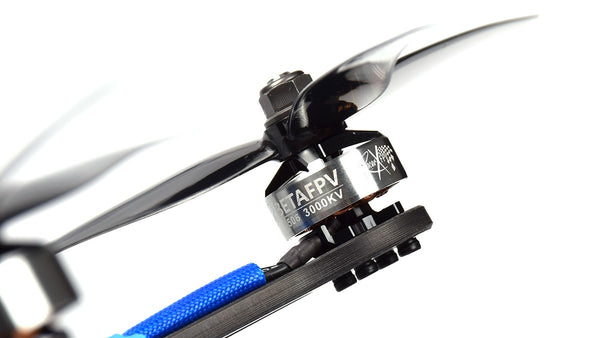 Camera & VTX
The Caddx Ratel is a great camera choice for both night flight as well as during the day! Equipped with a high quality 1/1.18" HDR sensor, it provides up to 0.0001 Sensitivity of lux. It is very versatile in that you can switch between PAL and NTSC video and also between 4:3 and 16:9 video formats. Latency is super low at only 8ms.
A01 VTX board is lighter and perfectly suitable for canopy with switchable output power between 25mW and 200mW. SmartAudio is available for VTX remote control in default.
TWIG Frame
TWIG ET5 5'' Toothpick Frame is a mutated TWIG frame that can accommodate 5" props. The frame is a premium 3.5mm thick high-grade T700 carbon cut along the weave and chamfered on both sides' interior and exterior edges at .8mm. The frame measures approximately 200mm from motor post to motor post. Motor mounting is for 4-hole 9x9 or 12x12 motor mounts.
Canopy
Canopy for Mini Camera V3 version-MINI V3 canopy has a holder hole in the front, but not on MINI V2 canopy. It is suitable for all mini cameras which are the 19*19mm or 20*20mm FPV cameras, like Caddx Vista or DJI FPV unit camera, Caddx Turtle V2, RunCam Racer 3.
Package
1 * TWIG ET5 5'' Toothpick Quad
4 * Gemfan 5125 3-blade props
*Battery is NOT included.